Pontoons often have a large buoyancy. But there are situations where extra buoyancy is needed. Our Flootzer Pontoon Float will give the extra buoyancy support to the pontoons. The inflatable floaters can simply be attached underneith the pontoons. When the inflatable floats are attached extra buoyancy is given to the pontoon.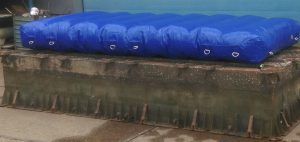 Not all the pontoons have the exact same dimensions. So our Flootzer Pontoon Floats are often custom made. Extra buoyancy is provided due to our inflatable floats. It is possible to provide the pontoon floats of air continuously. Because of the high pressure on the floats extra air is sometimes needed. A big ammount of weight is normally used when our pontoon floats are needed.
Pontoon Floats on Hofvijver
The World Championship Beachvolleybal 2015 was held in The Hague, The Netherlands. In the middle of the city centre a floating stadium was built. On the Hofvijver, the place where the Dutch government operates, the World Championship Beachvolley was played. To keep the stadium afloat lots of pontoons were used.
Buoyancy was a big issue, because the safety of the players and visitors must be guaranteed. The pontoons were supporterd by extra buoyancy due to our inflatable pontoon floats. Our inflatable floats were used for extra buoyancy underneith the playfield. A lot of sand was used and because of the ammount of weight a safety factor was used. The pontoon floats did their job very well. Because the stadium was able to float, the World Championshop Beachvolleybal was a big succes.